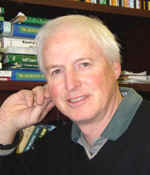 Graham Cooke B.Sc.L.A.
Golf Course Architect / President
grahamcooke@grahamcooke.ca

The golf design industry is all about passion. This is what has made my career choice so worthwhile. Each new project introduces a new canvas and a different group of dedicated people all striving for a quality, distinctive golf course. As the golf architect, you can't help getting committed and passionate about the process. From the first walk of the land, to the drafting table and on to the heavy machinery phase their is a true excitement that culminates in a beautiful, lush green course that is opened to play to an enthusiastic clientele, full of expectation. You can't help but feel the satisfaction of a long road travelled when you see golfers enjoying themselves and know that you helped in the development of an enduring product.
I started on my career path long before I knew it was a path. The engaging world of planning and problem solving, following imaginative ideas and working with a dynamic team at Michigan State's Architecture complex was exhilarating. Add to this mix the shot values of golf design, the uniqueness of each new setting and the power of heavy machinery and I was captured.
The world of golf design, for me, is about walking new lands; often in far away places. Working with clients and shapers and respecting the process. A good designer must, at some point, slow down the pace, set aside the distractions and add sound, imaginative concepts to the project. A fine golfer must do the same. He or she needs to reach a plateau that allows for concentration and vision. It may well be that my experience as a tournament golfer has helped me in my design world and vice versa.
Golf affects us all in different ways, but the passion can always be found; from the first time golfer who makes his or her first par to the best professional who is humbled by an outstanding accomplishment, to the designer who relishes the solitude of a rugged walk that defines a path taken long ago.
Graham has designed outstanding golf courses on three continents. Each year the GCA Team adds to its fine tradition of creating challenging and appealing golf courses for golfers of all abilities.
Graham continues to develop new markets and the GCA Team continues to expand its involvement in new courses, restorations and master planning.
Graham continues to play occasionally in national and international amateur tournaments where he competes at the highest levels.
---
© Copyright 2006 - Graham Cooke & Assoc. Inc. - All Rights Reserved