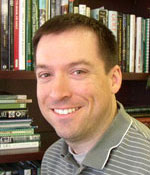 Yannick Pilon B.Sc.L.A.
Golf Course Architect
ypilon@grahamcooke.ca

Yannick Pilon joined GCA as a Design & Construction Associate in 1997 after earning his Bachelor's Degree in Landscape Architecture from the University of Montreal where he graduated with honours - winning the André Sauvé prize for the highest regarded university project.

Yannick's strong technical & artistic background helps GCA to create some of the best sets of Construction Plans in the business. These plans allow clients to gain a clear representation of their project before construction begins, while at the same time giving them a detailed account of the scope of work and investment needed.
Yannick's artistic side can also be witnessed on site where, with the help of both shapers and contractors, he likes to truly get the best out of each design.

Passionate about golf course architecture since an early age, Yannick is also a collector of books on golf course architecture.
Education:

- University of Montreal Bachelor of Landscape Architecture (1998)
Montreal, Quebec Honour: André Sauvé Prize for Best Final Project

Languages:

- English: fluent (spoken and written)
- French: fluent (spoken and written)

Memberships and Professional Associations:

- Member of the Board of Directors of the AAPQ (Sept. 1996 to May 1998)
- Royal Canadian Golf Association
- Quebec Golf Association

Professional Training:

- Végétaux et Paysages Urbains, March 1995;
- Pratiques Écologiques en Milieu Urbain, March 1996;
- Gestion de Projets en Architecture de Paysage, Feb. 1997;
- Histoires de l'Architecture de Paysage au Canada, Feb. 1998
- Entre Nature et Jardin, Colloque sur la Renaturalisation Végétale, Feb. 2001

Studies:

- History of Landscape Architecture - Applied Ecology
- Graphic Design - Construction Techniques
- Computer Assisted Design - Grading & Drainage

Professional Presentations:

Presentation of the seminar "Établissement d'un plan de rénovation à long terme pour un parcours de golf to the Association des Directeurs Généraux de Clubs de Golf du Québec Inc." in March 2002.

Written Articles:

"Bunkers, a distinctive element" in the Golf Supplement of the September 2006 edition of the Québec Vert magazine.

Profiles:

"Fais-moi un dessin – L'architecture de golf fascine Yannick Pilon depuis sa tendre enfance" in the Fall 2000 French issue of GOLF Canada, the official magazine of the Royal Canadian Golf Association.

Television Appearances:

Participated, as golf course architect, in the Télé-Québec talk show "J'aime – Le golf " that aired in the winter of 2000.

---
CURRENT PROJECTS
Yannick is actively involved in the design and/or construction of the following courses:
New Courses

- Club de golf Les Boisés de Joly, Joly, QC (18 holes)
- Eagles Ridge Golf Course at Tremblant Lakes Resort, Labelle, QC (18 Holes)
- Parcours Notre-Dame, St. Liguori, QC (18 Holes & 9 Holes Par-Three Course)
- Domaine St-Alexandre, Gatineau, QC (18 Holes)
- Domain de Pinia, Corsica, FRANCE (27 Holes)
- Odessa Seaside & Golf Resort, Odessa, UKRAINE (18 Holes)
- The Lakes Golf Club, Ben Eoin, NS (18 Holes)


Renovation & Consultation Projects

- Club de Golf Bic, Bic, QC
- Club de Golf de la Vallée du Richelieu (Verchères Course), Ste. Julie de Verchères, QC
- Club de Golf de Rosemère, Rosemère, QC
- Club de Golf et de Curling Thetford, Thetford Mines, QC
- Club de Golf Godefroy, Bécancour, QC
- Club de Golf Islesmere, Ste. Dorothée, QC
- Club de Golf Ki-8-Eb, Trois Rivières, QC
- Country Club de Montréal, Saint-Lambert, QC


PAST PROJECTS

Since joining GCA, Yannick has been actively involved in the planning and/or design of the following golf courses:
New Courses (Major Involvement)

- Club de Golf Les Quatre Domaines, Mirabel, QC (36 Holes)
- Fox Creek Golf Course, Dieppe, NB (18 Holes)
- LochNess Golf Links (formerly Hunters Pointe Golf Course), Welland, ON (18 Holes)
- Knowlton Golf Club, Knowlton, QC (9-Hole Expansion)
- Le Champêtre, Ste. Anne des Plaines, QC (18 Holes)
- Le Fontainebleau, Blainville, QC (18 Holes)
- Le Maître de Mont-Tremblant, Mont Tremblant, QC (18 Holes)
- Orleans Golf Academy, Orleans, ON (18 Holes)
- The Talon at Grey Hawk, Cumberland, ON (18 Holes)


Other New Courses

- Black Mountain Resort Golf Course, Bell Mountain, BC (18 Holes)
- Clovelly Golf Course, St. John's, NL (18 Holes)
- Cloverdale Links, Winchester, ON (18 Holes)
- Atlantide Golf Club (Don Quichotte Course), Ile Perrot, QC (18 Holes)
- Emerald Links Golf Course, Manotick, ON (9-Hole Expansion)
- Grand Falls Golf Club, Grand Falls-Windsor, NL (9-Hole Expansion)
- Gray Rocks Resort (La Bête Course), St Jovite, QC (18 Holes)
- Harmon Seaside Links, Stephenville, NL (9-Hole Expansion)
- Le Challenger, St. Laurent, QC (18 Holes)
- OslerBrook Golf & Country Club, Collingwood, ON (18 Holes)
- The Lynx at Kingswood Park, Fredericton, NB (18 Holes & 9-Hole Executive Course)
- Willow Valley Golf Course, Mount Hope, ON (18 Holes)


Renovations (Major Involvement)

- Club de Golf Cap-Rouge, Cap Rouge, QC
- Club de Golf de la Vallée du Richelieu - Rouville, Ste. Julie de Verchères, QC
- Club de Golf de la Vallée du Richelieu - Vercheres, Ste. Julie de Verchères, QC
- Club de Golf et de Curling Thetford, Thetford Mines, QC
- Club de Golf Islesmere, Ste. Dorothée (Laval), QC
- Club de Golf Ki-8-Eb, Trois Rivières, QC
- Club de Golf Port-Alfred, Port Alfred, QC
- Club de Golf Royal Bromont, Bromont, QC
- Club de Golf Royal Québec, Boischatel, QC
- Club de Golf St-Jean, St. Jean sur Richelieu, QC
- Club de golf Verchères, Verchères, QC
- Glengarry Golf & Country Club, Alexandria, ON
- Golf Club Monticello, Monticello, ITALY
- Jaypee Greens - Norman Course, Greater Noida, INDIA


Other Renovations

- Beaconsfield Golf Club, Pointe Claire, QC
- Glendale Golf & Country Club, Edmonton, AB
- Hillsdale Golf & Country Club, Ste. Therèse, QC
- King's Forest Golf Course, Hamilton, ON
- Northview Golf & Country Club, Surrey, BC
- Point Grey Golf Course, Vancouver, BC
- Scarboro Golf & Country Club, Scarborough, ON
- Victoria Golf Club, Victoria, BC

---
© Copyright 2008 - Graham Cooke & Assoc. Inc. - All Rights Reserved